Description
Give your home a stylishly integrated appearance. Its minimalist design is both neat and modern, but won't look out of place with your existing appliances and cabinets. It features strikingly beautiful, built-in looking flat doors and recessed handles, which don't protrude and get in the way.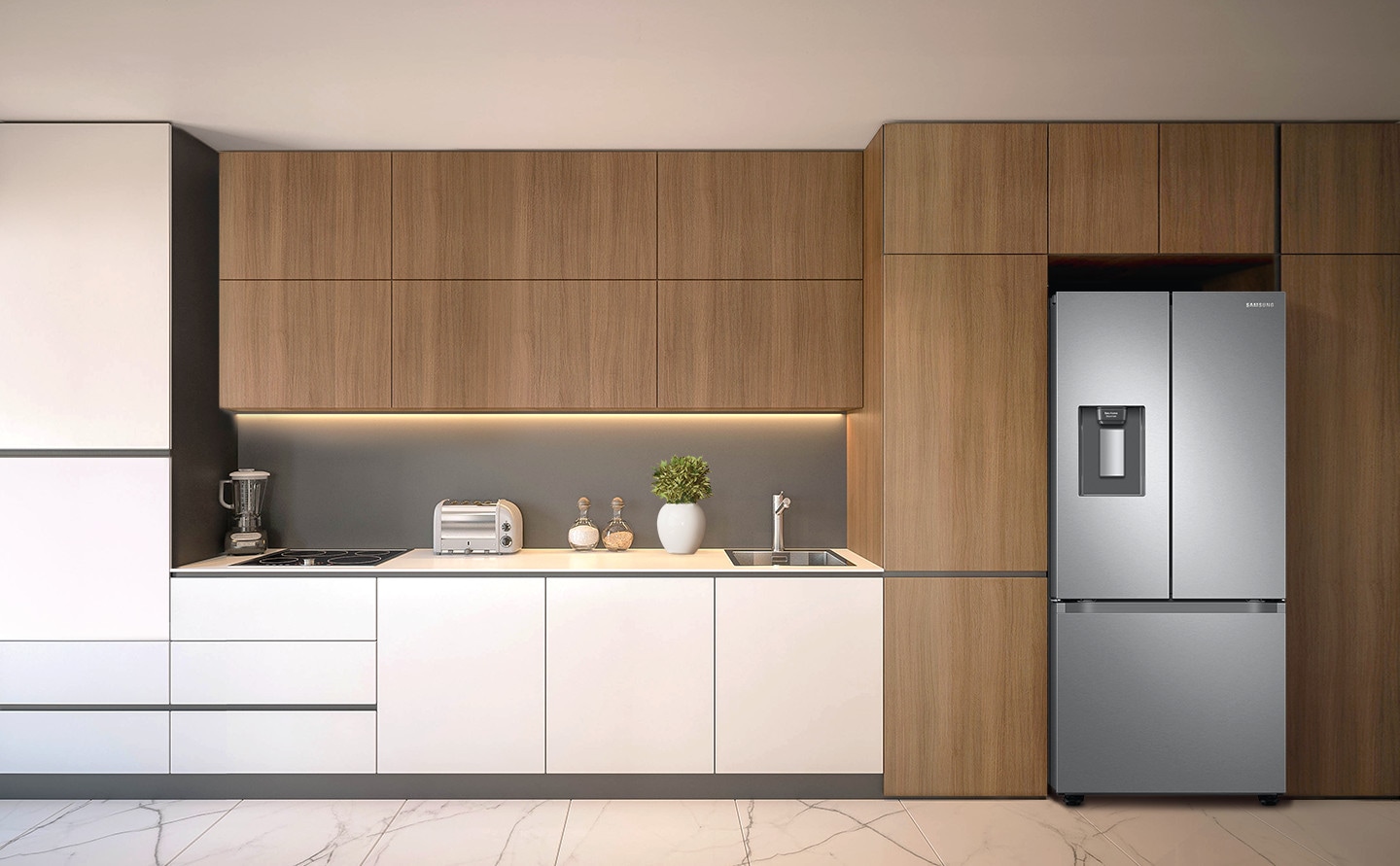 Enjoy refreshingly cool drinks & looks
Water Dispenser
Enjoy a simple way to look and stay cool. An optional Water Dispenser* is perfectly aligned with the minimalist design of modern kitchens. Simply access it from the dispenser that's conveniently located in the door. So you can get refreshingly chilled, filtered water without opening the fridge.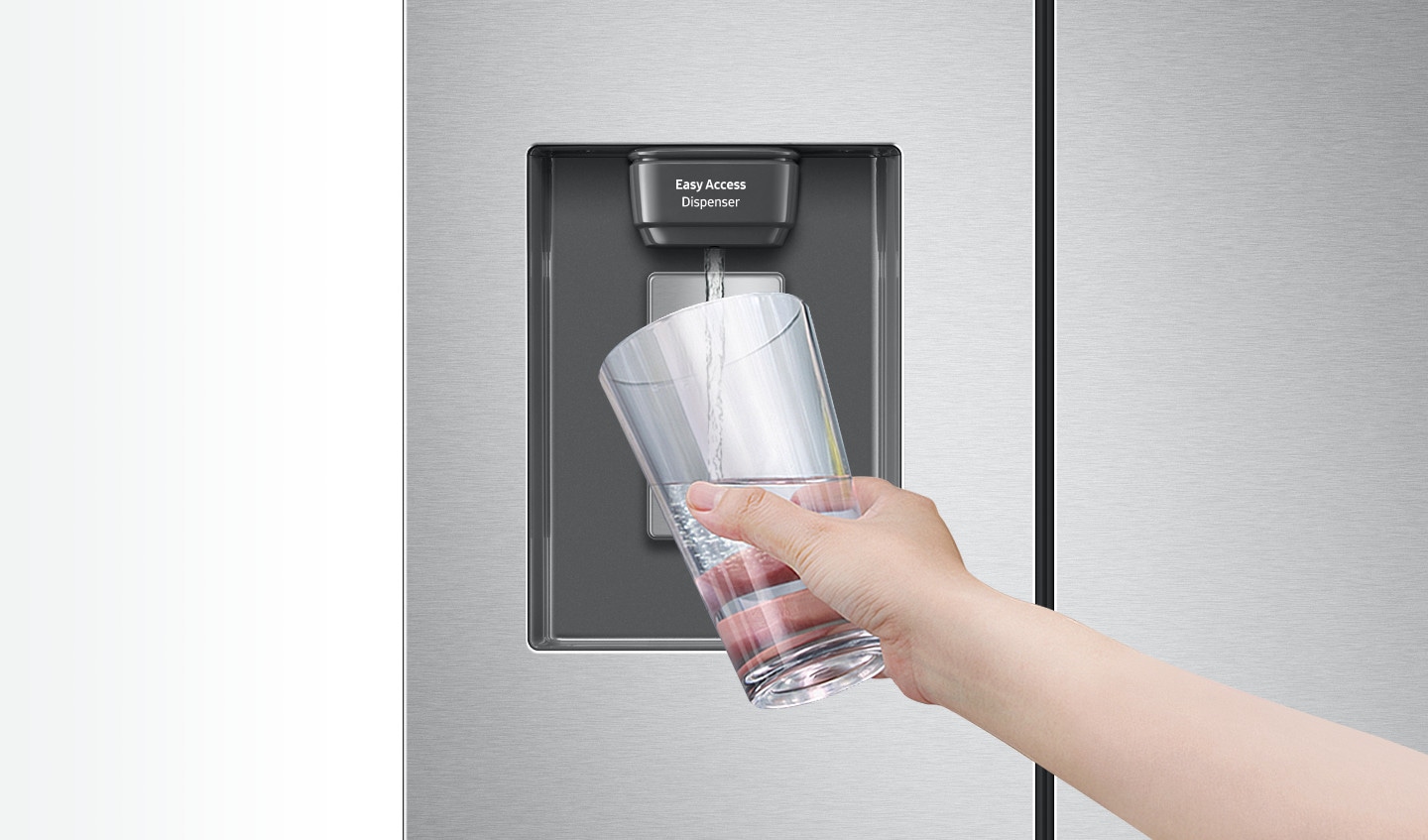 * Only available on certain models.
Easy remote control anytime, anywhere
Wi-Fi Embedded*
Monitor and manage the refrigerator's performance anytime, anywhere using its embedded Wi-Fi* and the SmartThings App**. You can control the Rapid Cooling modes, change the temperature and get alerts if the door is left open.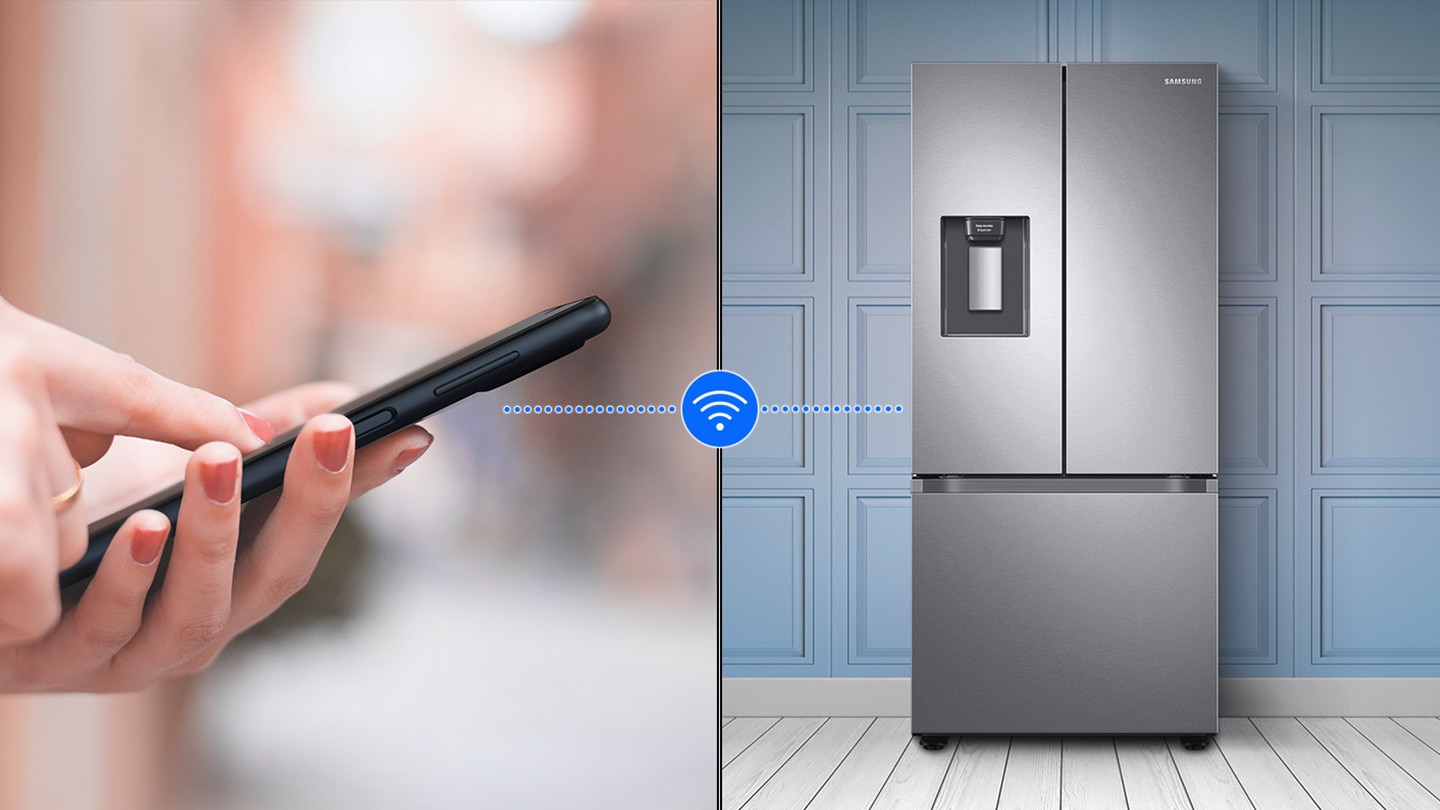 Enjoy all of the ice you need on demand
Auto ice maker
Make sure that you always have plenty of ice to stay cool. The Auto Ice Maker* automatically makes and stores ice cubes. So you can enjoy cold drinks whenever you need without having to remember to fill up the ice tray. It means you'll always be ready for the hottest of days or liveliest party!
Additional information
Weight
126 kg
Dimensions
85.1 × 91.2 × 178 cm
Capacity

Net Total(Liter)
300 ℓ
Net for Freezer(Liter)
72 ℓ
Net for Refrigerator(Liter)
228 ℓ
Gross Total(Liter)
308 ℓ
Gross for Freezer(Liter)
79 ℓ

Physical specification

Net Dimension (WxHxD)(mm)
600x1635x672 mm
Net Width(mm)
600 mm
Net Case Height with Hinge(mm)
1635 mm
Net Depth with Door Handle(mm)
672 mm
Net Depth without Door Handle(mm)
672 mm
Net Depth without Door(mm)
605 mm
Packing Dimension (WxHxD)(mm)
631x1698x699 mm
Packing Width(mm)
631 mm
Packing Height(mm)
1698 mm
Packing Depth(mm)
699 mm
Net Weight(kg)
56 kg
Packing Weight(kg)
61 kg
20/40/40H (Container)
37/75/75

Cooling Feature

No Frost
Yes
Cooling Type
Mono Cooling

Refrigerator Feature

Deodorizer
Yes
Number of Shelf (Total)
3 EA
Shelf Material
Tempered Glass
Number of Vegetable&Fruit Drawer
1 EA
Number of Door Pocket
4 EA
Egg Container(Egg Tray)
Yes
Fresh room
Yes
Interior LED Light
Yes
Big Guards
Yes

Freezer Feature

Icemaker
Tray
Shelf Material
Plastic
Number of Shelf (Total)
1 EA
Number of Door Pocket
2 EA
Interior LED Light
Yes

General Feature

Refrigerant
R-600a
Compressor
Digital Inverter Compressor

Exterior Feature

Door Handle
Recess
Color
Snow White
Water Dispenser
Not

Performance

Energy Efficiency Class
A+
Energy Consumption
315 kWh/year