Description
Rapid Burner 9.6 BTU

grill gas burner

large cooking area
Cook faster and more energy efficient
fast burner
Cook quickly and efficiently with a Rapido burner, which allows for faster cooking and easily adjustable temperature control. With the turn of a dial, you can quickly go from a high temperature to a low temperature. Or go all the way up to boil water and cook food with amazing speed and energy efficiency.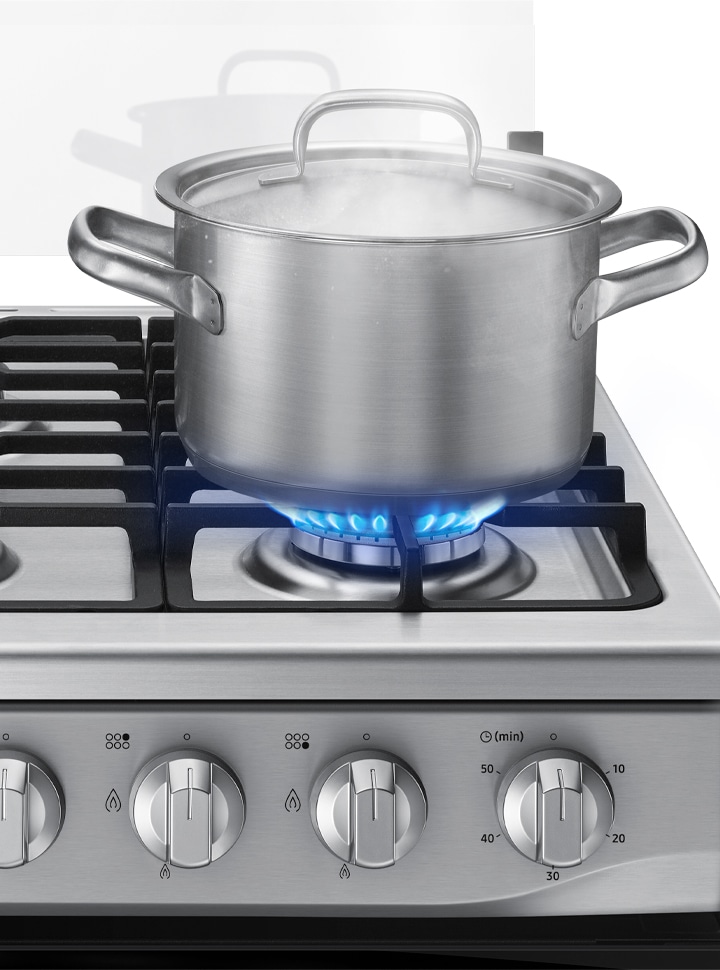 Cook a lot more in a bigger oven
Large capacity (5.2 cubic feet)
Create many more or much larger dishes with a whopping 5.2 cu.ft. oven capacity. You can prepare multiple dishes at different levels, such as vegetables, cakes or stews. Or it can accommodate large items, like a large roast or holiday turkey. And it's easier to reach and clean inside.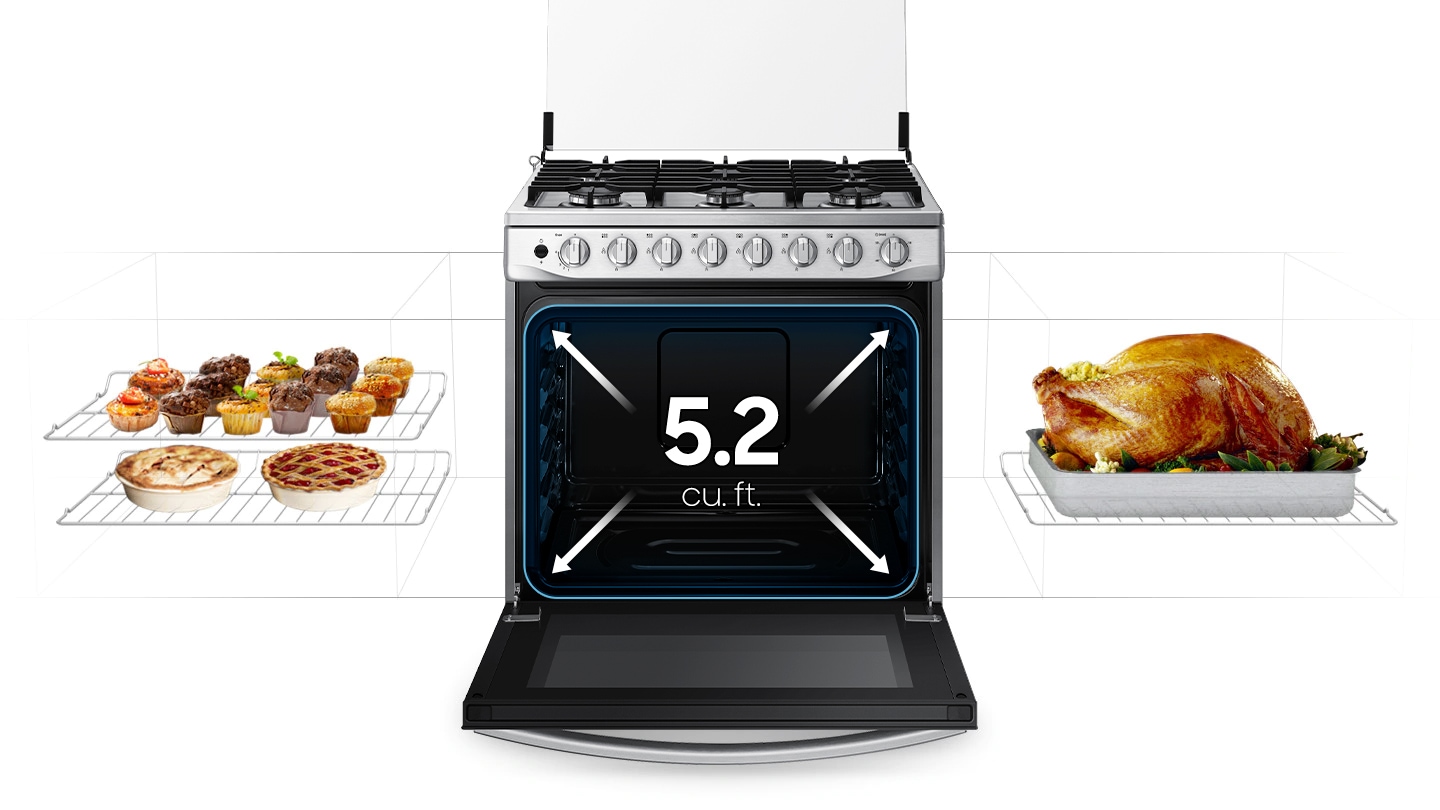 Cook more conveniently and safely
large cooking area
Enjoy the flexibility of cooking different dishes of different sizes at the same time. The wide cooking zone* wide rack design means you can handle much larger dishes and a greater variety of cookware. Its thick cast-iron racks also provide greater stability, so there's less risk of pots and pans tipping over.
Longer lasting heat, more even cooking
cast iron griddle
Cook food evenly and safely with a heavy-duty cast iron griddle*. It is very hot and maintains a constant heat for longer, making it ideal for sizzling, grilling and frying multiple foods or large items. And it is very durable and stable.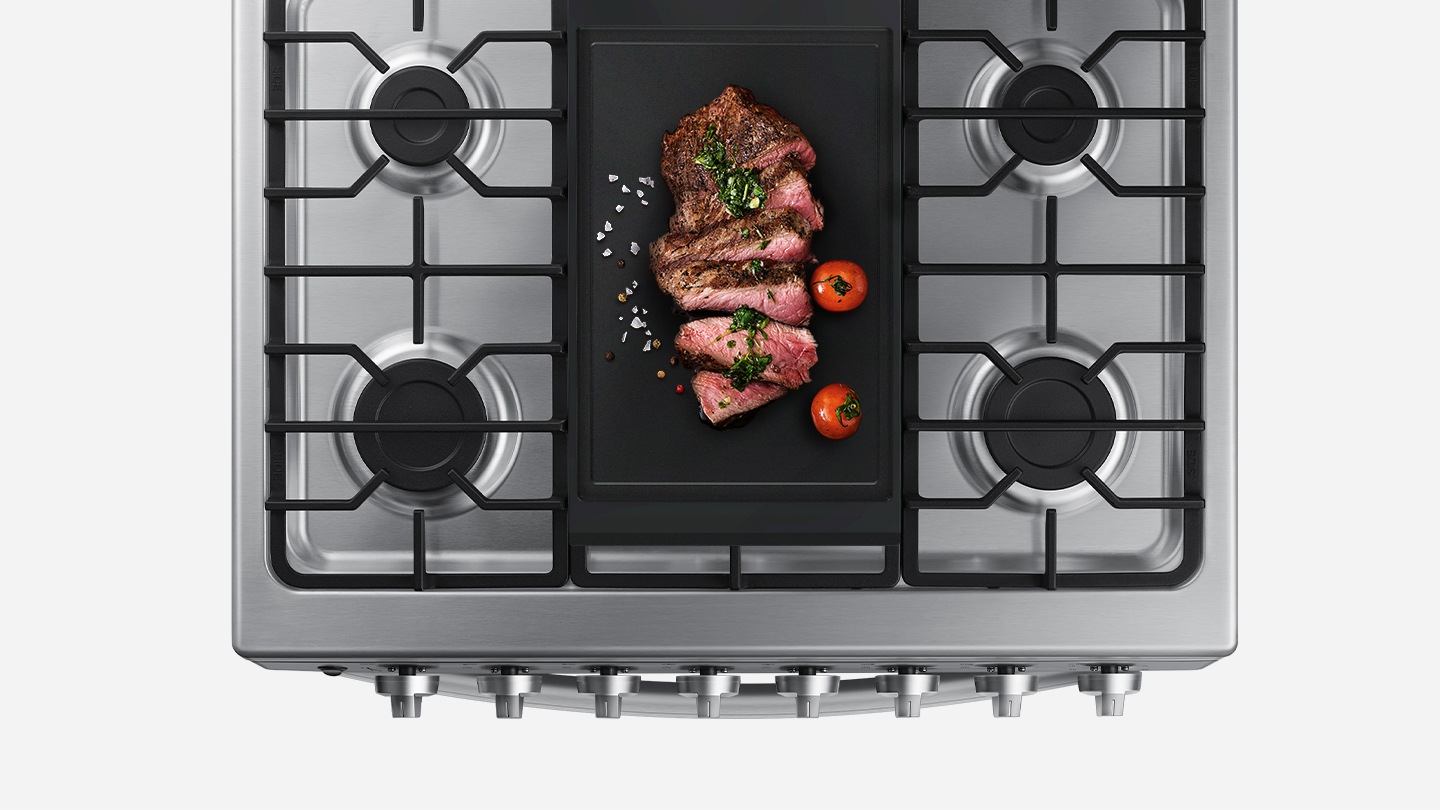 * Only available on NX52T7320NS and NX52T5310NS models.
easy-clean
Clean up after cooking much easier. The smooth surface of the oven cavity enamel liner is easy to keep clean, as any messes can be quickly wiped away without scrubbing. It is also highly resistant to marking and oxidation and helps prevent the spread of bacteria. And it won't discolor over time.
Check and change dishes effortlessly
Automatic sliding rack
Put food in and out much more easily and safely. When you open the oven door, the auto slide rack automatically slides smoothly and completely, without having to be pulled. It means you can conveniently add or remove dishes, and baste, flip and season your food with less effort.
Prevents injuries from oven tip-overs
Anti-tip technology
Reduce the risk of the oven tipping over if an adult steps on or a child sits on the open door. A counterweight balances the door when it is opened and can support a weight of up to 30kg. Therefore, it minimizes the chance of injury from spilled hot food and liquids or from the stove.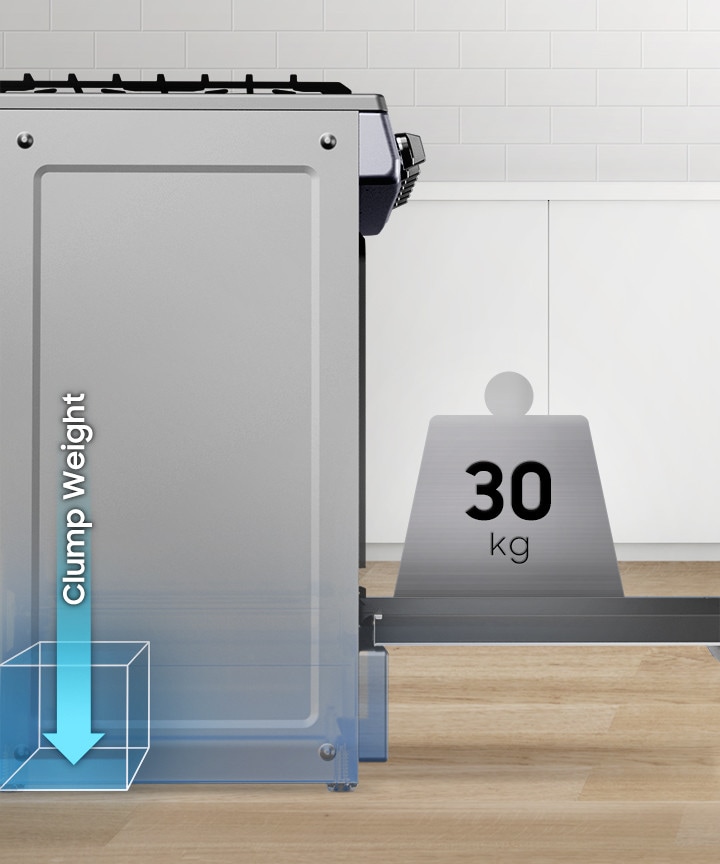 Elegant and robust design
Modern and robust design
Give your home a boost of impeccable, long-lasting style with a modern, robust design that blends harmoniously into your kitchen. Solid and durable cast iron grates have an attractive hexagonal shape. And the door's mirror finish and flat handle create a sophisticated, minimalist look.
Additional information
Additional Information

Specifications
Installation type: Free standing
Cavity type: Thermal
Oven capacity: 5.2cu.ft (146L)
Burner number: 6 EA

Type
Installation type: Free standing
Cavity type: Thermal

Capacity
Oven capacity: 5.2cu.ft (146L)

Materials/Finishes
Control type (oven): Electric ignition (2 steps)
Control type (stove): Electric ignition (2 steps)
Door type: Black smog

Characteristics
kitchen timer: Yes
Hidden bake element: Yes
Interior Light (Position): 25W*2
Light (Lamp) On / Off: Yes

Cooking surface
Type: GAS (LP)
stove frame: STSS
burner number: 6 EA
Total power: 46.6K BTUs
burner: 19.6K BTUs
burner: 29.6K BTUs
burner: 39.6K BTUs
burner: 46.0K BTUs
burner: 56.0K BTUs
burner: 66.0K BTUs
burner cap: Yes
sealed burner: Yes
Grate: Cast iron * 3 pieces

Feed/Rating
oven element 14.7K BTUs
roast element No

Drawer
Type No

Weights/Dimensions
Net (width x height x depth) 76.7 x 93.9 x 67.5cm
Gross (width x height x depth) 80.5x98x71cm
Net weight) 59.5kg
Gross weight) 66.5kg
Load quantity (20/40ft)46/92/120

Accessories
Number of rack positions 5
Number of oven racks one
wire rack one
Iron yes (cast iron)
anti-tip device No